About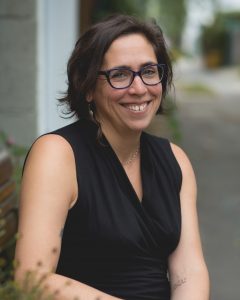 Caroline Lemay has accumulated a rich and varied experience in dispute prevention and resolution (DPR) for over 15 years now. Since 2017, she addes a services specialized in the management of sexual misconduct and sexual ethics in an organizational setting.
She is a member of the Quebec Bar and the Forum of Canadian Ombudsman as well as an accredited mediator. She is also trained in organizational ethics and the prevention of psychological health risks in the workplace.
With a law degree (LL.L / J.D.) and a graduate specialization in DRP, Caroline began her career abroad with the International Committee of the Red Cross, which acts as an ombudsman for victims of armed conflict. During her various mandates with the organization, in addition to providing legal advice, she has conducted more than 300 impartial administrative investigations and negotiated with the authorities in place to respect the fundamental rights of victims of conflict. She has also accompanied national authorities and public administration representatives in the implementation of recommendations aimed at optimizing the management of prison resources, for a better respect of the rights of detainees.
Upon her return to Canada, Caroline led various mediation and conflict resolution projects in the community sector with vulnerable populations. She was also a member of the multidisciplinary research team of the Charbonneau Commission, dealing with issues of ethics and corruption.
Unable to find in the legal profession the necessary space to emphasize a humane sense of fairness, which allowed her to obtain unexpected results in her previous experiences, she founded her consulting and intervention firm in order to offer an approach to regulation that is more adapted, more human and more participative.
Since 2017, Caroline has specialized in the management of sexual misconduct in the organizational setting. The variety of her experience allows her to advise management on the right measures to take to manage these delicate situations in a compassionate and fair manner and to implement rigorous and effective informal interventions that meet the needs of the complainants while ensuring the fair treatment of those involved.
Caroline is recognized for her professional versatility, her sense of ethics, her humanity, her thoroughness and her pragmatism.
To view Caroline's complete resume, visit her LinkedIn page by following this link.